Any business now that is optimizing for local SEO has to make use of the "near me" SEO strategy, as without it now ranking could be difficult.
Google Trends has shown a big increase in search data regarding searches with "near me" in them. While people may assume that such type of search queries are mostly mobile based this is not the case. In fact around 50% of such searches still come from the desktop.  For any business that want to effectively target the local audience "near me" is the way to go as even though they might be just a fraction of overall local SEO strategy they are still very beneficial to gain more traffic.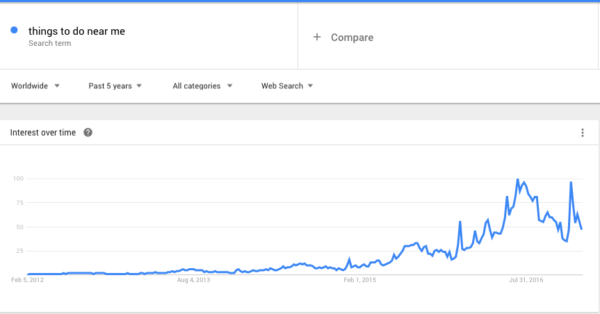 Google Trends Data
When it comes to ranking in these type of search queries, some key factors are:
Google Reviews.

The total number of backlinks that have the name of the city and state in anchor text.

The percentage of backlinks that have the name of the city and state in anchor text.

Restaurants Near Me Search Trend Over Time
Another thing to note is that distance is not a big factor for good rankings. As research shows that businesses with keywords in their name or in the same city as the "near me" search have a better chance of ranking higher.
Some tips for taking advantage of the "near me" searches:
Be sure to add "near me" to your title tags of location pages

Also add "near me" along with most popular keywords to the text on these pages. For ex. "Pizza near me"

Add "near me" to the anchor text of the internal links that lead to these pages. In case of a multi-location business this is to be done for store location pages

Get proper backlinks to your location pages along with geo-specific anchor text

It has also been noted that "near me" is not as precise as "nearest me" so you can even look into optimizing for these. The following image explains this feature:
This may be because the first website is optimized better for the term Italian Restaurants instead of Pizza.
With this insight on how "near me" searches are growing today, along with a few simple tips any business can look for to achieve better local SEO results. This will help target local people better and even get you relevant customers quickly.
At Brandconn Digital, we offer reliable web services with a proven track record and a pool of experienced, dedicated SEO expert professionals that encompasses not only improved Google SERP rankings but also a tailored strategy to enhance your online visibility, attract local customers, and boost your business's growth. 
We are an offshore outsourced SEO company offering outsourced SEO services to our offshore partners. If you are seeking an outsourcing partner to improve your Google SERP ranking? Contact us today!