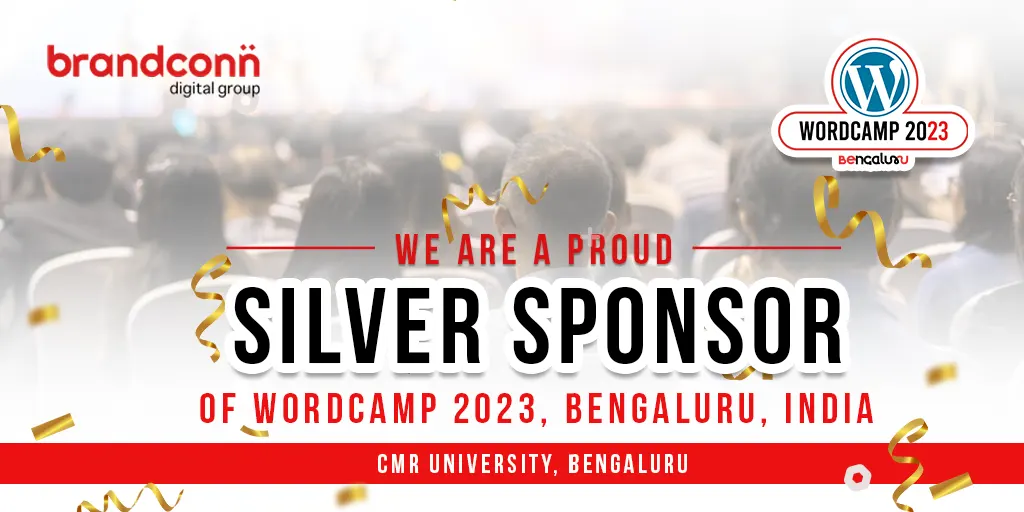 Brandconn Digital, a leading digital transformation company, is thrilled to announce its silver sponsorship for the highly anticipated WordCamp 2023, set to take place in Bengaluru, India on July 29th, 2023. WordCamp, the premier event for the WordPress community, brings together industry professionals, enthusiasts, and thought leaders.
As a silver sponsor, Brandconn Digital is honored to be associated with this flagship event and share the stage with renowned companies such as GoDaddy, Bluehost, SiteGround, WooCommerce, and News Corp UK, among others. This sponsorship underscores Brandconn Digital's commitment to supporting and empowering the WordPress community.
With an extensive portfolio of successful digital transformation projects, Brandconn Digital is excited to connect with attendees at WordCamp 2023. The event offers a unique opportunity for businesses, organizations, and individuals to explore potential partnerships, collaborations, and career prospects.
"We are proud to be a part of WordCamp 2023 Bengaluru, where we can engage with like-minded professionals and exchange valuable insights," said Ratnesh Dubey, Director of Brandconn Digital. "This sponsorship demonstrates our dedication to fostering growth within the WordPress ecosystem and leveraging our expertise in digital transformation to drive innovation and success."
Brandconn Digital invites all attendees to visit their booth at WordCamp 2023 Bengaluru to learn more about their digital transformation services, explore potential collaborations, and discover exciting career opportunities. The team will be available throughout the event to discuss how Brandconn Digital can help organizations achieve their digital objectives and enhance their online presence.
For more information about Brandconn Digital, please visit www.brandconn.com.
For more information about WordCamp 2023, Bangalore, please visit-